Hero of the Week is BACK!
We've been missing for the past couple of weeks but SF is back with a hero of the week, and this week's hero of the week comes from Linda Howard, an author that I haven't been too happy with lately. (Mostly just the past week or so) But, since I didn't like
Killing Time
so much, I thought I'd take a glance back to better books by Linda Howard, one of them being, Cry No More.
With the delicious
James Diaz.
Take a look at him in all his deliciousness.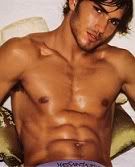 YUM!
You see, the reason we chose
James Diaz
as this week's Hero of the Week, is because if you've read his book, you'd know that he was one of those Alpha Males the ones that are quiet and lethal. He's a mean son of a bitch and he doesn't care who knows it.
He's got an intense personality and even though he was really mean and cold hearted, he wasn't completely dead, because he was funny. A few weeks ago, Holly used one of the scenes from Diaz's book as the Quote of the Week, let me refresh your memories with all that.
The scene:
He watched her for a minute, his dark eyes narrowed against the afternoon sun. Then he said, "I'd give my left nut to be inside of you right now."

Squinting up at the sun, trying to find something solid to hold on to, since the ground had just shifted beneath her, she said, "Why do men always offer their left nut and never their right one? Is something wrong with it? Or is the right one somehow more important?"

"You wrong us." He closed his eyes with a tired sigh and that slight smile touched his mouth again. "A man takes both his nuts seriously."

"In that case, I'm flattered."
HA!
This man, is lethal and persistent when it comes to stalking his prey. He was tender and sweet when it came to loving his woman and he was down right, hella sexy to boot! What more can a woman ask for?
If you haven't read his book already, you should soon because his book is REALLY good.
Until next week...
Labels: Hero of the Week
---------------------------------------------