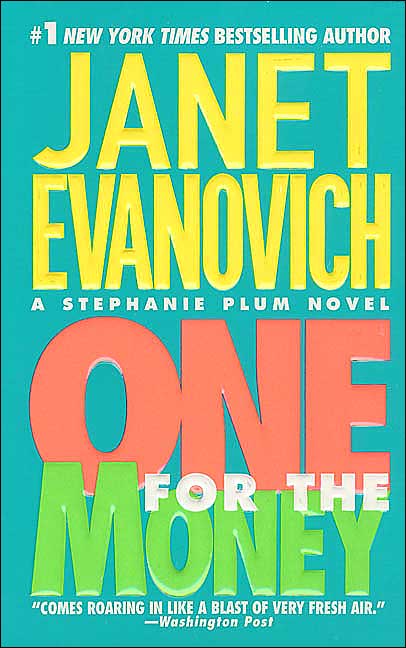 Welcome to colorful Trenton, New Jersey, and the wild and wonderful world of Stephanie Plum. In One for the Money, rookie "apprehension agent" Plum may be a bit wet behind the ears, but nobody's gonna take it easy on her; especially her first skip, an ex-cop and murder suspect named Morelli.
Holly Says
Stephanie Plum is a little down on her luck. The Trenton, New Jersey girl has lost her job as a lingerie buyer for a sleezy department store, her car has been repossessed, her overbearing Italian mother is trying to set her up with a balding, fat butcher and she's had to sell off all her furniture and appliances just to make ends meet.
As a last resort, she goes to her cousin Vinnie and blackmails him into giving her a job...as a bounty hunter. Steph doesn't know much about being a bounty hunter, but she's determined to get the $10,000 finders fee on the biggest skip-trace on the books. One vice cop, Joseph Morelli.
The thing is, Joe and Steph have a little history together, and Steph isn't sure if bringing him is just business as usual, or a personal vendetta. The first time she met Morelli she was 7 and he dragged her into his parents garage to play Choo-Choo, and didn't even let her hold the flashlight. Then, when she was 17, he nailed her behind the Eclair case at the donut shop she was working at, then wrote all the dirty details in the men's room at Mario's sub shop. Four years later, Steph saw him walking down the street and ran him over with her dad's Buick. So, yeah, bringing him down might be personal.
To make matters worse, Steph gets on the bad side of a psychotic deranged boxer name Benito Ramirez. But Steph is made of tough stuff and she isn't going to let a 250 lb psycho keep her from getting her man...
This is the first book in a (so far) 12 book series about bond agent Stephanie Plum. It's the perfect set up for the series and one of the funnies books I've ever read.
I love everything about it, from Steph's Mazda Miata getting repo'd by a sleezy guy she went to high school with, to her mother's constant harping. In the first three chapters alone, I was laughing so hard I was crying. Let's see:
Grandma Mazer, Steph's 80-year-old grandmother decides to start wearing biker shorts and accidentally shoots the ass out of the chicken their having for dinner with Steph's gun.
Steph goes to get a job with her cousin Vinnie and has to blackmail him into giving her the job by reminding him, "I know about Madam Zaretski and her whips and chains. I know about the boys. And I know about the duck."
Steph "commandeers" Morelli's car (read: steals) and when Morelli comes for it, he catches her the shower. She's stolen the distributor cap and he wants it back. When she refuses to give it up he handcuffs her to the curtain rod - naked - and leaves her there. Hey, he's not a complete asshole, he left her the phone.
Steph's antics are enough to have anyone in stitches. Pick up the first book (and the rest in the series) and give yourself over to the crazy world of Stephanie Plum. You won't be sorry.
5 out of 5 (It's not without it's flaws, but the laugh factor alone is enough to make me score this at the top of the chart)
Isabel Says
Ok, Holly gave you the plot. So I'll skip all that. This book was great. I loved Grandma Mazur. From shooting the chicken they were going to have for dinner with Stephanie's gun to her biker shorts, she was just hilarious!
Loved when she ran Joe Morelli over with her car. Well didn't run him over, just kind of clipped him. It was pay back for taking her virginity from behind the eclair case at the bakery she worked.
When Joe handcuffed her to shower rod naked and Ranger had to help Stephanie out.
When she blackmailed her cousin. Hilarious!
Benito Ramirez was just creepy! Ugh, i did not like that man. Just reading his scenes sent shivers up my spine. He's a raping, mutilating, boxer and he's set his sights on Stephanie. He's called her house, visited her at her apartment and left her a present. I was so hoping he'd get his. And in a way he did, but not like I had hoped. More like dying a slow painful death.
I'm looking forward to the next book.
Grade: A-
Labels: 5 reviews, Contemporary, Holly's Reviews, Janet Evanovich, Plum Series
---------------------------------------------