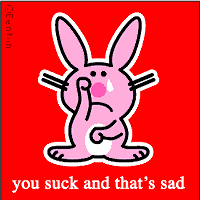 As I'm sure you've come to realize from previous posts, I have some serious issues with Romance Heroines. We've discussed some of them, such as the ones that are TSTL and have serious cases of
Penis Envy
. Or the ones that
refuse to acknowledge
what the hero means to them, because they "don't believe in love" or refuse to accept the hero, because he "couldn't possibly love someone such as her". *gag*
So today, I'm bringing up yet another issue I have with Romance Heroines. The Ultimate sacrifice.
I mentioned this briefly in my review of
The More I See You
by Lynn Kurland. In that particular book Jessica, the heroine, seemed like a fairly intelligent woman. Until she decided that she had to take it upon herself to sacrifice everything for the hero. Why? Well, because despite his unnatural common sense, practical approach to life and excellent care of her throughout the book, he was - apparently - too stupid to decide for himself if he wanted to stay with her.
Catherine Anderson is fabulous at writing these types of idiot ass heroines, as well. In
Phantom Waltz
, our heroine there just KNEW that the hero would be better off without her, despite his obvious love for her and the fact that he spent MILLIONS of dollars to ensure her comfort in his home, and up and left him at the first sign of trouble.
Am I just a complete idiot here, or is the Ulitmate Sacrifice not one of the most ridiculous plots available in the romance market today? Perhaps I could see the heroine making such a sacrifice if her hero is, in fact, a complete moron not capable of deciding what it is he wants or what might possibly be best for him. But since heroes like that, Thank the Lord, are few and far between (actually, I'm not sure I've ever read a hero like that...for which I'm eternally grateful!), why do these idiots insist on "doing the right thing, because the hero can't"?
Why, oh why, Dear Readers, do heroines so often take it upon themselves to "do what's best" for the hero? Especially when they claim to already love him, or he her. If that isn't one of the most ridiculous things I've ever heard...
*sigh*
Labels: Other Goodies
---------------------------------------------