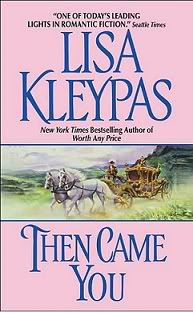 Hero:
Lord Alex Raiford, Earl of Wolverton
Heroine:
Miss Lucy Lawless
Category:
Historical Romance
Page Count:
403 pages.
Grade:
B-
From the Publisher:
Reckless and wild, beautiful Lilly Lawson delights in shocking proper London society—and will break any rule to flaunt her independence. And now she is determined to rescue her helpless sister from an upcoming, undesired marriage to Lord Alex Raiford, the arrogant Earl of Wolverton. Through fair means and foul, the headstrong hellion succeeds outrageously — but her handsome adversary is not to be outdone. A master gamesman, Lord Alex counters Lily's scorn with kindness, and parries her blistering barbs with gentle words and a soft, sensuous touch. For he has resolved to make the spirited miss pay dearly for her interference — with her body, her soul. . .and her stubborn, unyielding heart.
This book started out a bit slow and I didn't think I was going to like it nearly as much as I did. I wasn't looking forward to reading the rest of this book from the first four chapters, but after about the fourth chapter, the book really picked up and it was great! I'm glad I read it. Lisa Kleypas is a total gem in the historical genre of romance, this is my second book by her that I've read and I'm glad that I finally picked up her books to read.
I don't know what has taken me so long to get to this author, but I like her style.
Lily Lawless was once jilted at the altar by a man she thought she loved. Then while she's traveling the world with her eccentric Aunt Sally, she meets and falls in love again with an Italian man who turns her world upside down again. And now, she's back in London, living on her own rules, gambling at Cravens (YAY! I love this man! Oh sorry, Holly! LOL) and is a really good friend of, Derek Craven himself. A friend of hers who is in love with her engaged sister, Penelope wants Lily's help to try to get Penelope for himself.
Lily's soft heart can't help but help her friend, so she sets out to end the engagement of her sister, Penelope Lawless and Lord Alexander Raiford, the Earl of Wolverton. And she's not above making a fool of herself as long as she gets the job done.
That's where the journey begins.
Now, this book wasn't as good as Dreaming of You, but I did really enjoy this book, I enjoyed Alex and Lily's struggle to find common ground on just about everything and I hecka enjoyed reading about them falling for each other...as in all books, it was such a joy to read.
After the book picked up speed in about the fifth chapter, it was smooth sailing for me after that, I enjoyed the book and ripped through it pretty fast, so I wasn't bored at all after that. The characters were great, I enjoyed meeting Henry and seeing the bond between him and Alex. It was so cool to see Harry quoting all of Alex's good qualities to Lily, how cute. And it was cool to see Alex's concern for his brother, most guys don't care one way or another, but Alex did and I thought that was cool.
Zack and Penelope were cute, Penelope made me roll my eyes a time or two but she wasn't a bad sort. My favorite character though was, Derek Craven of course.
Poor Derek, doesn't think he's good enough for Lily...so he's pushing her into Alex's bed, not that he was complaining or anything. I'm so glad that Derek got his own book and that I don't have to wonder about him, I love him and his snaggled tooth ass with his cockney accent...it's okay Derek, sometimes I don't say my H's either...LOL.
As for the things that bothered the piss out of me, well there really was only the one thing that I can remember right now and that is Lily not coming clean to Alex about her big secret. She had ample time to fill him in so that he didn't look like an idiot in front of everyone but she never came clean until it was too late, until the truth of her secret was all but thrown into his face. I mean, I'm glad that at the end, Alex came to the rescue but I just would have been a bigger Lily fan if she had come clean about the secret. You'll have to read it to find out what it was.
This book gets a B-, good book for real!
Labels: Grade B, Historicals, Lisa Kleypas, Rowena's Reviews
---------------------------------------------