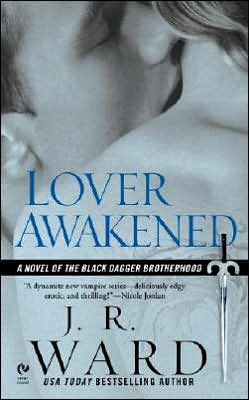 Hero:
Zsadist
Heroine:
Bella
Category:
Paranormal Romance
Page Count:
434
Grade:
C
Buy It:
here
,
here
or
here
.
Even within the vampire brotherhood, Zsadist is feared. Still bearing the scars from a tortured past, he is renowned for his unquenchable fury. Anger is his only companion, and terror is his only passion-until he rescues a beautiful female from the evil Lessening Society.
Whoa.
Where to begin with this one.
I mean, this book was going so great for me, and then little things started happening in the story and in the book and I was getting just a little more frustrated and a little more frustrated.
Did J.R. Ward forget that she was writing romance novels when she started getting toward the end of this book? Did she skip the part of Romance Writing 101 when they taught the class on THE BAD GUYS GET KILLED, NOT THE GOOD GUYS? Didn't she ever hear the saying, "If it aint broke, don't fix it?"
What in the world would convince her that killing off a perfectly good character would make her a sensational writer?
She already done ruined one of the books in this series for me. How in the world am I going to get through Tohr's book, all the while he's falling in love with ANOTHER WOMAN? I just don't think I've got it in me. She done alienated me, and I had such high hopes for this book.
Not that I didn't like BELLA AND ZSADIST'S story, because I loved their story. Zsadist was less whiny that Zarek and more apologetic than Zarek and he was a fantastic hero. I can't help but compare Zsadist to SK's Zarek, because theyre SO similiar, maybe a little TOO similiar. But, of the two, Zsadist was the less whiny...but they're both hella hot, so I can forgive JRW for copying a character and some other stuff...well not really, but meh whatever.
This book flowed really well, a lot of things happened, a lot of things shouldn't have happened, but above all, the story of Zsadist and Bella was really good. I enjoyed their story a lot.
Did ya'll know who the Reverend was before it was unveiled? I did. So there wasn't much mystery behind that one.
Okay, one other thing that bothered the hell out of me throughout the book. Why in the hell does J.R. Ward keep bringing up the whole gay thing? I mean, if gay people are into the whole guy on guy thing, then by all means, handle your business, but I really don't care to read for it ALL THROUGHOUT a book, especially if these manly men are supposed to love women. If they love women, then quit writing about three grown ass manly men, who love women and what not, waking up in bed together, NAKED! Who the hell does that? Is that supposed to be sexy to me?
Hell EFFING no.
All the gay undertones surrounding the Brothers of the Brotherhood, totally turned me off...the series? I'm not sure. But it sure did make me wonder about V? I mean, Phury insinuating that maybe V was into that shit? Hello???? You are writing for women, women don't like men who like other MEN, or are INTO THAT KIND SHIT...I mean, let's be real now. Even though I know that Phury was into Bella for a little bit, I did get to wondering if he was SURE that he was into girls, because the way she writes these men, she's writing them into a bunch of gay guys and that's fine and dandy if she was writing gay romance, but shit, I like men who LOVE women, I like to read about men who LOVE women, I don't like to wonder if hot and sexy Vishous likes Phury or even Butch for that matter.
Because that scene with Vishous feeding Butch his blood toward the end was just a little too gay for my tastes. There were too many of those "You know how I know you're gay?" moments for me in this book. Even with Phury and Zsadist laying in bed together, spooning it up, was a little TOO GAY for me. If I'm being honest here, what Alpha Male (you know, the kind of males these guys are supposed to be) is going to want to cuddle up next to their damn brother?
Yeah, that's what I thought.
NONE.
There were a lot of things I HATED about this book, what happened to Wellsie and even what happened to Sarelle, I HATED, wondering where the hell Tohr is and about John's well being, I HATED, I HATED all of the gay shit in here too, but the overall story was really good. I enjoyed seeing Bella win Z over, I enjoyed all of the Z and Bella scenes, I enjoyed getting to know Z even though his character reminds me of too many damn characters from other books, it kinda sucks because he's just not that original for me, I can forgive Z for that, but Im not so sure about JRW.
This book gets a C from me, because though I enjoyed the story, there were too many things that I wanted to rewrite and just flat out HATED.
Labels: Grade C, J.R. Ward, Paranormal, Rowena's Reviews, vampire
---------------------------------------------