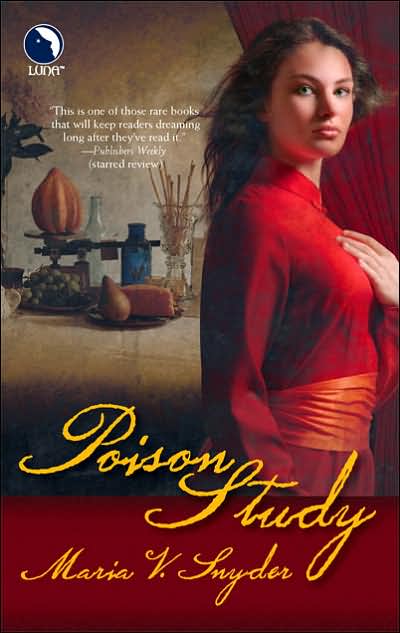 Choose: A quick death . . . or slow poison . . .

About to be executed for murder, Yelena is offered an extraordinary reprieve. She'll eat the best meals, have rooms in the palace -- and risk assassination by anyone trying to kill the Commander of Ixia.

As Yelena tries to escape her new dilemma, disasters keep mounting. Rebels plot to seize Ixia and Yelena develops magical powers she can't control. Her life is threatened again and choices must be made. But this time the outcomes aren't so clear . . .
Holly Says:
Before I go into my review, I just want to say...isn't that cover amazing? I think it's beautiful.
I first read about this book on
Samantha's blog
and I was intrigued by it. Her
review
made me anxious to read it, and I wasn't disappointed in the slightest by it.
Poison Study
is the first person tale of Yelena, a woman sentenced to death for murdering the son of a high ranking General in Ixia (North). On the day she's to be executed, she's brought before The Commander's first in command, Valek, to confess her crimes. Instead, Valek offers her the position of food taster for the Commander. She's put on the spot: Die now, or possibly die later by poison. She chooses the possible poison. Yelena says that only a fool wouldn't accept, and that she is no fool.
The training of a food taster really surprised me. She was forced to sample a lot of different poisons so that she could recognize them in the Commander's meals, some of which leave her so ill she's incoherent for days. And if she survives her training, there's a good possibility she won't survive a plot to murder the Commander.
As Yelena finds out more and more about what's going on around her the entire picture changes, and she's forced to look deep inside herself for strength she isn't sure she possesses. Not only that, but a traitorous plot is revealed and Yelena seems to be right in the middle of it. Plus, the General whose son she murdered isn't happy to wait around and see if she dies by poison.
As the story develops, and I was shown more and more of Yelena's world, I was completely drawn in. And just when I thought I'd figured out what was going on, a new revelation would occur and I'd have to review everything I thought I knew about the story and characters. It truly made me think, which doesn't happen that often.
I also have to tell you that the romance was just an added bonus. When I first started reading, I didn't even think this was a romance novel. But as I watched Yelena fall in love (no, I won't tell you who with, read it and find out for yourselves), I was pleasantly surprised!
I truly admired the way MVS brought in new characters, as well. Though there are several by the end of the book, they were introduced gradually and I never felt overwhelmed or like there was too much going on at once. There was also a magical element to this story that I didn't expect, but which, I felt, was also an added bonus.
Overall I was extremely impressed. So much so that I immediately ordered the second installment,
Magic Study
.
As a first novel, I'd say
Maria V. Snyder
certainly left her mark. I highly recommend this book and look forward to more from MVS in the future.
4.75 out of 5 ( I didn't give it a full 5 stars because I had no idea it was the first book in a trilogy)
Poison Study
Magic Study
Isabel's Turn
I enjoyed this book. I started it last night and finished this morning. Because I had know what was going to happen. Would romance blossom between her and certain someone? What was criollo? A drug. I had to know.
I thought it was interesting how she went through the training to become a food tasters. Tasting the different poisons. The most deadly making her ill for a couple of days. The staff would bet on if Yelena would survive or not.
I liked her friendships with Ari and Janco. Loved how protective they were of her. They taught her to trained her to fight. When she became ill from tasting poison, they took turns watching her. It was very sweet.
There isn't a whole lot of romance, but you can feel it building it up. The twists and turns of the plot were also good and kept me guessing. I can't wait for Magic Study, the sequel to Poison Study to come out in paperback.
Grade: A-
Dylan's Turn:Hero:
Valek
Heroine:
Yelena
Category:
Paranormal
Grade:
B+
So Yelena is up for execution because she killed a man. Before she is executed, she's offered a job as The Commander's Food Taster, she has to taste his food to make sure there aren't any poisons that would kill the Commander. She has to become an expert on poisons and Valek takes her under his wing and trains her in the art of poison. She proves herself time and time again to him and the book ends with me hoping to read more in the second book,
Magic Study.
I liked this book a lot. I loved seeing Yelena's character grow in self confidence as the book wore on. I loved watching her stand up for herself and not having anyone fight her battles for her. I loved the friendship that blossomed between her, Janco and Ari. It was genuine and I enjoyed it. I loved how her relationship with Valek progressed throughout the entire story. They went from being very wary of each other to missing one another and then to loving each other. That was great, I got all giddy when Valek told Yelena that he was having criollo sent up to
our
room...hehe, it was great! The characters were great, the storyline was fantastic and all the espionage and spy stuff had me guessing right up until the last page.
Great stuff!
What I didn't like about the book was that it took a long time for the story to take off. It was slow to start for me but I'm glad I stuck with it. Another thing was Valek's tests, that man would drive me up the wall, though I thought he was a sexy man with his fierceness in the battlefield. All the tests he put everyone through and how he was so complex, it had me secondguessing him throughout the whole book...that could be a good thing, keeping me on my toes but it annoyed me some in the book. Aside from the slow start and the constant tests, I loved it!
I would totally recommend this book to anyone, it's great stuff, I promise!
Labels: Grade A, Holly's Reviews, Isabel's Reviews, Maria V. Snyder, Paranormal, Rowena's Reviews
---------------------------------------------