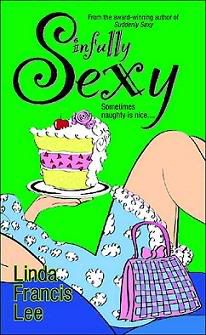 After a close encounter of the sexy kind,
Chloe discovers her wild side. . . .

Plain-Jane Chloe Sinclair has never been bad . . . until she stumbles- literally-into the arms of a gorgeous stranger. To make matters worse, the morning after, her world is rocked completely off its axis when the sensual dreamboat turns out to be the man brought in to save the TV station where she works.

Sterling Prescott is hard-driven, sexy as hell, and determined to take over the struggling KTEX TV. But all bets are off when the shameless wildcat who disappeared on him last night walks back into his life-acting like a squeaky-clean librarian. Life gets truly complicated, however, when Sterling decides to win more than the station-and to show her that being sexy isn't a sin.
After taking, and failing, a 'how sexy are you' quiz Chloe decides to see how sexy she can be. And with that ends up nearly having sex with a stranger in a hotel bathroom. Opps...but just in time she is snapped back to her senses and flees, never believing she'd see that mystery man again.
But the next day when she walks into a meeting at work and sees that very same man standing there she nearly faints. Not only does she see her mystery man again but he turns out to be (or at least she thinks) an employee of Sterling Prescott. Cutthroat businessman who swoops in and buys out businesses in trouble and rebuilds them, with no remorse. So she does what she thinks is best....pretends she's never seen him before.
Sterling Presscott cannot get the sexy woman from the hotel bathroom out of his mind, and he cannot believe she walked away from him! HIM, Sterling Prescott, CEO of Prescott Media. Granted she doesn't know he is Sterling Prescott, she thinks he is Trey Tanner, his own employee. But what shocks him the most is she's pretending not to know who she is!
Through this book we see a bet with a brother, a TV show gone a little kooky, and lots of hotness with our H & H.
Okay even though I DID like this book! ALOT! There were some of the same issues in this book as
the last
. Alot of starting up with the hot and heavy....then.....STOPPING! And something else I didn't mention when I reviewed the last book but was there was the fact that the hero's both "Grunted and Cursed" almost every singe page! Goodness. And last but not least, I hate when certain phrases get played out, and LFL used this one in BOTH books "You undo me". Cute but very played. Sorry.
So while I did like the book, there were obviously thinks I didn't like.
Grade:
B-Read them all:
Suddenly Sexy
Sinfully Sexy
Simply Sexy
Labels: Contemporary, Jazz's Reviews, Linda Francis Lee
---------------------------------------------