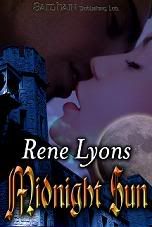 Where the damned come to play.

When things go bump in the night, Allison Parker bumps back. As the resident ghost hunter in a quiet, rural town, she's thrust into the nocturnal world of the Templars. Embracing the night, she finds a place where she belongs.

Damned by God, Sebastian of Rydon knows only blood and death. After eight hundred years of merely existing, he learns what is to live when Allie comes bursting into his life. Her spirit guides him out of the dark.

Caught in a web of hate and revenge, they search for love as their world is torn apart.
...following on from
Holly & Dylan's
review.
I was completely hooked to this one, right from the beginning. In fact, I became pretty foul when I was constantly pulled away from my Sebastian time - of which my family can undoubtedly attest to. Suffice to say, my ever romance loving heart could not stay away. Every minute I could spare, I had my eyes glued to the screen, reading with anticipation and glee - and often found myself laughing out loud, thereby causing anyone who sat beside me to see what was so darn funny.
And this one indeed had many outright funny moments. I think the humor sprinkled throughout the novel has got to be one of my favourite things about it. It can be deadly serious and heart thumpingly spine chilling, and then bam!
*insert humor here*
It was FAB! In particular, there's a scene towards the end of Chapter 3 that made me laugh so much, it has fast become one of my favourites.
There were just so many great things in this one..but some that must be mentioned:
* Hands down, Sebastian of Rydon is one smokin' hot Templar. *fans self* I love how he's so fierce yet so gentle with his Allie. And it was great to see how quickly she was able to penetrate his defenses that he had put up and held for so many centuries. It was heart warming to see him finally find some sort of peace, after suffering for so long. I loved everything about him, hell, even the way he 'broods' is sexy to me. LOL.
* As Holly has already mentioned, Allie didn't suffer from
common heroine issues
and she definitely did NOT get on my nerves! I thought she was sassy, smart and very brave - and when the shit hit the fan, she didn't go charging in but rather thought quick on her feet, assessing the situation and the best way to keep herself safe. She was independent, yet she knew exactly when she was out of her league and when reinforcements were needed. Smart girl, indeed.
* The way all the Templars embraced Allie into their fold, and swearing to protect her with everything they had. They were fierce and deadly and yet, all of them had a softness about them that had me grinning like a fool. I even loved how Constantine, who seems to be the more intimidating of all the Templars, wore his heart on his sleeve when it came to Allie's welfare.
""Like we wouldn't protect you.." -- Constantine to Allie
and then later, a fierce warning..
"Allie better be in one piece, Sebastian"
To be honest, I was a bit hesistant to Constantines character for such a small insignificant reason, but now..I can't wait to see what Rene will cook up for him!
* The sizzling chemistry between Allie and Sebastian. They both wanted each other, but being from two totally different worlds, Sebastian didn't want anything to do with her. Without a soul and in search of redemption,
he
of course thought Allie should have
nothing
to do with
him
. But as fate would have it, nothing could squash what was between them. And when both of them realised it, neither tried to fight it anymore. They accepted it and fought to be together and ultimately, fought for their other half.
Overall, I was very pleased with Midnight Sun. After waiting
im
patiently for its release, I had set expectations for it in my mind - and I'm delighted to say I was not at all disappointed! So KUDOS to you, Rene! It's a keeper! :D
The only thing that stopped this one from being a perfect 5 is that I wanted more. I wanted more insight into the world of the Templars and of how they came to be doomed, and perhaps a sneak peek into their lives prior to the present day. I just wanted a little more background info to see the 'bigger picture'..or maybe that's just me being a curious wench. ;o)
Bottom line:
I highly recommend this one, especially those that enjoy a good paranormal. Don't pass this one up! *grin*
4.5 / 5
Labels: Grace's Reviews, Paranormal, Rene Lyons
---------------------------------------------