S

he is an impoverished noblewoman who lives by her wits as a Tarot reader for the English nobility. He is London's most notorious cat burglar.



They met one dark, glittering night. Yet even Jessamine Maitland cannot foresee the destiny that will sweep her into the adventure of her life with the proud, arrogant thief who has no intention of ever being caught—by man or woman.

But Alastair MacAlpin has not reckoned on Jessamine—and a passion that will turn a game of cat-and-mouse into a matter of life and death. As the elusive aristocrat attempts the most daring coup of his checkered career, he is undone by this elegant beauty who sees the tenderness behind his mocking facade...and who will pursue him over rooftops and to the ends of the earth, if she must, for the love only he can give her.

I picked up this book because I'm back in my reading slump (let me tell you, my
June TBR Challenge
isn't going well...
at all
!) and since I enjoyed
Lord of Danger
(for the most part), I figured I'd like this one as well. But I stopped reading after the first chapter. Know why?
Because I'm a vain, shallow creature. I read a description of the hero, felt mildly ill, and put the book down. Want me to share the description with you? Ok, you twisted my arm...
She'd imagined someone dark and dangerous, though she wasn't quite certain why. Instead, he seemed a fairly common garden-variety dilettate, from the toes of his jeweled, high-heeled slippers to the top of his carefully curled wig. He held a lace handkerchief in one hand, no doubt properly scented, and he loooked down at her as if she were the insect.
Jeweled, high-heeled slippers? A curled wig? A scented lace handkerchief? Oh.Hell.No.
Yes, I realize I have to consider the times - regency England among the ton - and the current fashions for that time - just as is described above - but I just couldn't be attracted to a man that wears high-heeled slippers and carries a scented lace handkerchief. Sorry, not gonna happen. It reminded me of
Dylan
's recent post about ol' boy in his
high-heeled clogs
.
*gag*
Now, I'm the queen of pretending I didn't read something (i.e. long hair, facial hair, skinny body, whatever) but even I, with my overly creative imagination, couldn't ignore this. Nuh-uh. No way.
Am I shallow? Absolutely. Is that wrong? Probably. Does it matter? Hell no, I still ain't readin' about this pansy-ass hero!
So there!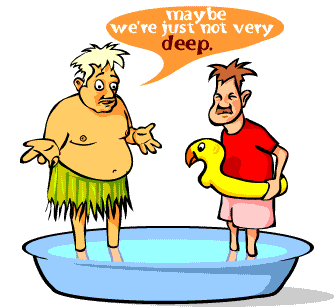 I have this problem. It's a horrible problem, and something I hate about myself, but I tend to deal with it anyway. Curious?
Well, you see, once I start a book, I can't seem to put it down (except for on very rare occasions) and this one was no exception. I tried not to read anymore, but I swear, it was like watching a train wreck, I just couldn't look away.
So I continued on, thinking, as some of you did, that this was perhaps a disguise, because he was, afterall, a theif. But no, I'm sorry to say, that doesn't seem to be the case. Yes, I think he does play it up just a bit - the air of a dandy, that is - but not too much. He enjoys pretty things - by his own admission - and, well, it just go worse.
I already had a picture in my mind of a rather thing, cat-like man in high-heels, and AS only made it worse. She kept referring to him as a cat, in the way he moved, the quickness of his motions, the way his eyes adjusted to the dark. Now, I could have dealt with this, had she compared him to, say, a leopard. But no, she just kept saying...Cat.
I can't find the particular description I wanted to share with you, but suffice it to say, my shallow ass wasn't at all impressed with him. Not.At.All.
*gag*
Labels: Anne Stuart, Historicals, Holly's Reviews
---------------------------------------------