***This was supposed to go up on Wednesday, but I had a helluva week and didn't have time to work on it. Thanks for being patient!***
I have a thing for tortured heroes. Come on, admit it, most of you do, too. We love reading about a wild, dark, tortured man who has hidden depths. Seeing a man like that fall in love and become a slave to his woman just makes my heart turn over. So this week, I've chosen one of the most tortured heroes I've ever read about. Literally.
A Carpathian, Jacques Dubrinsky has spent his life fighting vampires, but one night he's captured and he spends the next seven years suffering the most unspeakable torture you can ever imagine. Since I can't explain it better than Christine Feehan herself, I'm going to let you hear for yourself just what he suffered.
For those of you who are unfamiliar with this series, Christine Feehan takes us into the world of vampires and paranormal activities. Before I continue, let me clarify something: Carpathians are not humans. They're an entirely different race. The can shapeshift, they can read minds, they can command the elements. And after 200 years of existing alone on Earth, they lose all sense of feeling. They can't see colors or feel emotions. So the spend eternity after that in a blank void. Until they find their true lifemate. And once they do, they're emotions are restored. They go from seeing nothing but grey to experiencing color again. But for some, the wait is too long, and so they turn vampire, killing innocent humans for the small rush it gives them. The brief spurt of power. It is then that the warriors fight their hardest to remain true, to not fall to the darkside. Because they have to go and hunt their brethren, men they loved. Their family. Their friends. The ones they grew up with. Keep that in mind while reading this post, because you can't hold them to the same standards as we do other heroes.
There was blood, a river of it running. There was pain, a sea he was floating in. Would it never end? A thousand cuts, burns, the taunting laughter telling him it would go on for all eternity. He could not believe he was so helpless, could not believe his incredible power and strength had been drained from him, leaving him reduced to such a pitiful state.
His tormentors had somehow managed to capture him, paralyze him so that he could feel yet not move, not even his vocal cords. He was totally helpless, vulnerable to the puny humans tearing his body apart. He heard their taunts, the endless questions, felt the rage in them when he refused to acknowledge their presence or the pain they inflicted on him. He wanted death, welcomed it, and his eyes, cold as ice, never left their faces, never blinked, the eyes of a predator waiting, watching, promising retaliation. It maddened them, but they refused to administer the finishing blow.
Droplets of blood began to seep from his pores. Red Blood. He clearly saw that his blood was red. It meant something important, yet he was confused, unable to discern why it was significant and what it meant. His mind was becoming hazy, as if a great veil were being drawn over his brain. He couldn't remember how they had managed to capture him. He struggled to "see' the image of the one of his own kind who had betrayed him, but the picture would not return to his mind. There was only pain. Terrible, endless pain. He could no make a sound, even when his mind shattered into a million fragments and he could no longer remember what, or whom, he was struggling to protect.
And then they staked him in the heart, put him in a casket and buried him alive. Only it didn't kill him. So for seven long years, he suffered like that. Until Shea, his heroine, comes and rescues him. At first he doesn't understand her purpose and he tries to fight her, but as soon as he realizes he can see color because of her, he does everything in his power to protect him. He has no memory of anything but the pain, his mind is shattered and his body ravaged, but even so, he still puts himself in front of his lifemate and protects her, willing to give up his life if need be.
He comforts her as she tries to understand things she's never known before, and he takes care of her, even though he's the one who needs care. He's not afraid to admit how much he needs her either.
He released her wrist reluctantly, traced his fingertips along her high cheekbone. His mind touched hers, found genuine fear and confusion. "I am as much in the dark as you are. I know only that you ended my suffering, that you came to my call, that I recognize my other half. You are the light to my darkness."
"My imprisonment may have destroyed whatever I originally was, and I do not know who I am now. But I know that I need you. Would you really leave me alone?"
"I may be insane, Shea. I have thought about it for a long while. I know my nature is that of a predator." He sounded very thoughtful, giving each of her worries his strict attention. "But if I am truly insane, then I cannot be without you. I will need you every moment by my side to ensure the safety of all mankind."
His fingers tightened around hers, his breath warm along her knuckles. "I want you with every cell in my body, with my mind and my heart. Your soul is the other half of mine. When you are with me, I feel. Joy, desire, anger, even laughter. You are my lifemate. I have waited over eight hundred years to find you. I could not see color until you came into my life." His black eyes, worn with suffering, fastened on her green ones. "I cannot lose you. I can never be alone again."
Tell me you aren't melted by this man. Read more about him in
Christine Feehan
's
Dark Desire
.
And here's a pic* to help you along...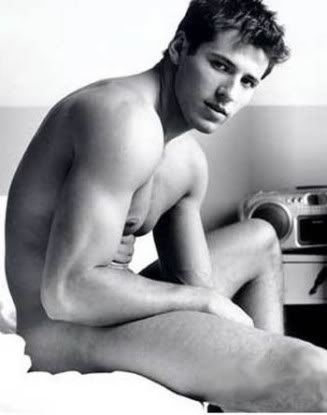 *Thanks to Dee-Baby for finding the picture for me. You're the best!
Labels: Hero of the Week
---------------------------------------------