The Hero of this Week is dedicated to the other ladies here at Sanctuary, who have yet to read about the oh-so swoonworthy
Jamie Alexander Malcolm MacKenzie Fraser
, Laird of Lallybroch. I think it's a shame that they're missing out on such a wonderful hero, who truly makes the heart beat faster and slower and absolutely melt...so this one is for you girls!
We first meet Jamie Fraser in Outlander by Diana Gabaldon, when Claire Randall is accidentally transported from the 1940s back into the 1740s. Utterly dazed and confused by the time travel, Claire is faced with not only understanding how she came to be in such a place, but also how on earth she'd find her way back home. It is then she meets an injured solider, Jamie Fraser, who she nurses back to health..and who inevitably changes her life path. The two become ensared in battles, betrayal, hardship and along the way, a romance begins to bloom that even time could not crush.
For those of you who love a tortured hero, for those of you who lust over strong scottish lairds, for those of you who sigh with a dreamy expression over heartwarming declarations of love made by heroes with a surprising vulnerability..Jamie Fraser is definitely the man for you.
Many men may declare that they'd lay their lives on the line for the people they love, but when the time came, would visibly blanch at the idea. But not Jamie. He willing risked his life for those he loved, time and time again, and for a cause he believed in. He sacrificed his flesh and blood, literally, for the greater good and to protect his own. And more than anything, he loved his lifemate Claire Randall with so much passion and intensity, it makes readers yearn for such tenderness and love in their own lives.
He is the man every woman would want to love and be loved by and the man every other man would strive to be. He's fierce and courageous, hardened by the betrayals and obscenities he has suffered in his lifetime, and yet has the ability to love with his entire soul. That's the only way I can explain his unconditional, undying love for Claire, which surpasses time and space itself. Too often we see tortured heroes unable to accept some goodness in their lives for many reasons; fear of losing it, belief that they don't deserve it or that they are incapable of being loved or loving someone. In this instance, Jamie feared that he'd lose his Claire to his enemies and time itself and he believed that she deserved far better and should return to her own time..and yet, knowing all this, he held onto his Claire with both hands. His heart burned with desire and love and he wasn't scared to let Claire see. And when the time came to make some of the hardest decisions of his life, he sacrifced without hesitation to ensure that his Claire would be safe, to go on living, even if he could not.
I can't say enough how much I love Jamie Fraser, for his loyalty, for his courage, for his vulnerabilities and most of all, for loving his Claire with fierceness that warms the heart. And oh, how endearing the word Sassenach (which is what Jamie called his Claire) became throughout the series of these books.
Now if you haven't been convinced enough by my raves that Jamie Fraser belongs on the keeper shelf, here are a few quotes from the Outlander series:
"You're mine, mo duinne," he said softly, pressing himself into my depths. "Mine alone, now and forever. Mine, whether ye will it or no." I pulled against his grip, and sucked in my breath with a faint "ah" as he pressed even deeper. "Aye, I mean to use ye hard, my Sassenach," he whispered. "I want to own you, to possess you, body and soul." I struggled slightly and he pressed me down, hammering me, a solid, inexorable pounding that reached my womb with each stroke. "I mean to make ye call me 'master', Sassenach." His soft voice was a threat of revenge for the agonies of the last minutes. "I mean to make you mine."
-- from Outlander

"I prayed all the way up that hill yesterday," he said softly. "Not for you to stay; I didna think that would be right. I prayed I'd be strong enough to send ye away." He shook his head, still gazing up the hill, a faraway look in his eyes.
"I said 'Lord, if I've never had courage in my life before, let me have it now. Let me be brave enough not to fall on my knees and beg her to stay.'" He pulled his eyes away from the cottage and smiled briefly at me. "Hardest thing I ever did, Sassenach."
-- from Outlander
"Don't move, Sassenach," Jamie's voice came softly, next to me. "Just for a moment, mo duinne---be still." I obligingly froze, until he touched me on the shoulder. "That's all right, Sassenach," he said, with a smile in his voice. "It's only that ye looked so beautiful, wi' the fire on your face, and your hair waving in the wind. I wanted to remember it." I turned to face him, then, and smiled at him, across the body of the child. The night was dark and cold, alive with people all around, but there was nothing where we sat but light and warmth---and each other.
-- from Dragonfly in Amber
"I will find you," he whispered in my ear. "I promise. If I must endure two hundred years of purgatory, two hundred years without you---then that is my punishment, which I have earned for my crimes. For I have lied, and killed, and stolen; betrayed and broken trust. But there is one thing that shall lie in the balance. When I shall stand before God, I shall have one thing to say, to weigh against the rest." His voice dropped, nearly to a whisper, and his arms tightened around me."Lord, ye gave me a rare woman, and God! I loved her well."
-- from Dragonfly in Amber
Do ye not understand?" he said, in near desperation. "I would lay the world at your feet, Claire---and I have nothing to give ye!"He honestly thought it mattered.
-- from Drums of Autumn
"So long as my body lives, and yours---we are one flesh," he whispered. His fingers touched me, hair and chin and neck and breast, and I breathed his breath and felt him solid under my hand. Then I lay with my head on his shoulder, the strength of him supporting me, the words deep and soft in his chest. "And when my body shall cease, my soul will still be yours. Claire---I swear by my hope of heaven, I will not be parted from you."
-- from Drums of Autumn
"I've seen ye so many times," he said, his voice whispering warm in my ear. "You've come to me so often. When I dreamed sometimes. When I lay in fever. When I was so afraid and so lonely I knew I must die. When I needed you, I would always see ye, smiling, with your hair curling up about your face. But ye never spoke. And ye never touched me." "I can touch you now." I reached up and drew my hand gently down his temple, his ear, the cheek and jaw that I could see. My hand went to the nape of his neck, under the clubbed bronze hair, and he raised his head at last, and cupped my face between his hands, love glowing strong in the dark blue eyes. "Dinna be afraid," he said softly. "There's the two of us now."
-- Voyager
"Only you," he said, so softly I could barely hear him. "To worship ye with my body, give ye all the service of my hands. To give ye my name, and all my heart and soul with it. Only you. Because ye will not let me lie---and yet ye love me."
-- Voyager
And finally...
Jamie's hand still lay on mine. It tightened a little, and I glanced at him, but his eyes were still fixed somewhere past the dooryard; past the mountains, and the distant clouds. His grip tightened further, and I felt the edges of my ring press into my flesh. "When the day shall come, that we do part," he said softly, and turned to look at me, "if my last words are not 'I love you'--ye'll ken it was because I didna have time."
-- from The Fiery Cross
How can you not fall in love with this man? *dreamy sigh* Especially since he looks like this: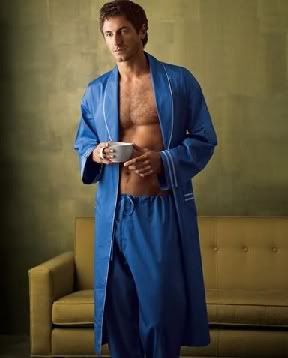 If you'd like to pick up this long but very worthwhile series, it's as follows:
Outlander
Dragonfly in Amber
Voyager
Drums of Autumn
The Fiery Cross
A Breath of Snow and Ashes
Until next week..
Labels: Hero of the Week
---------------------------------------------