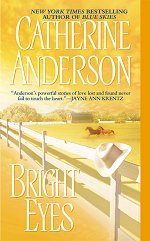 Now in Anderson's latest Coulter family story, serious-minded Zeke Coulter's life begins to sizzle when he finally meets his match .....

Zeke Coulter has no intention of getting married—until he buys a ranch next door to Natalie Patterson, a sexy divorcée with two kids, a zany family, and a philandering ex-husband involved in shady business dealings. When Natalie's twelve-year-old son vandalizes Zeke's property and she is unable to pay for the damages, Zeke offers to let the boy work off the debt.

As Zeke struggles to instill a sense of responsibility and self-worth in the troubled youngster, he finds his life being turned upside down by Natalie, whose sultry singing voice and striking eyes disguise her underlying lack of belief in herself or in her dream of becoming a professional singer. With rugged determination, Zeke undertakes to bolster her confidence, revive her ability to trust men...and thoroughly seduce her. But just as their attraction begins to blossom, a twist of fate gravely threatens their life together ..."
LOVED this book!
Zeke, the most serious of all the Coulters, knows he doesn't ever want to get married. Growing up with so many siblings, he has no desire to share his space with other people. He thoroughly enjoys his solitude and never wants to give it up.
Natalie Patterson is trying to recover from a difficultfinanciallyly straining divorce that's left her on the brink of bancruptcy and her children emotionally strained. She isn't looking for love or a relationship, in fact, that's the last thing on her mind as she tries to save her Supper Club and comfort her young children.
But when Natalie's son vandelizes Zeke's house, the two are forced to work together to help make things right...and fight a major attraction between them.
I loved how Zeke went from hating to share his space, to feeling lonely without Natalie and her two children there. When he first realizes his new neighbor's child is repsonible for the damages done to his house, the only thing he can think is that the boy needs to be taught a lesson. By threatening to call the police, he forces Natalie into agreeing that her son has to work off the damages. But falling in love with her two kids and wanting to be a father to them wasn't in the game plan for Zeke.
Natalie's angry at Zeke's attitude toward her son in the beginning, but after seeing the change in him after Zeke spends time with him, she finds herself even more wildly attracted to him than she had been before.
Rosie, Natalie's daughter, reminded me so much of my own I wondered several times if CA had met her before. She was sassy and full of knowledge, and she talked all the time. I fell head over heels in love with her.
Being a single mother myself, and having gone through a divorce so similar to Natalies, I really connected with these characters. Natalie's ex is a real piece of work who neglects his financial responsibilities and his children. My heart hurt for Chad, Natalie's son, because my son went though the same feelings and emotions.
Natalie's quirky family made me laugh out loud on several occasions.
When Natalie is framed for the murder of her ex-husband (she was a better woman than I, too, because she said though she didn't care for him she never wanted to see him dead...I could only be so lucky. *snort*), she really starts to rely on Zeke. He stepped right up to help her, too.
There were several gut-wrenching scenes, like when she's forced to sell her grandmother's earrings to pay for school clothes and her son finally realizes she's not the bad guy, but his father is.
I laughed, I cried and I fell in love with a man who didn't want a family, but thanked God for giving him one anyway.
Highly recommended.
4.5 out of 5
Labels: Catherine Anderson, Contemporary, Holly's Reviews
---------------------------------------------