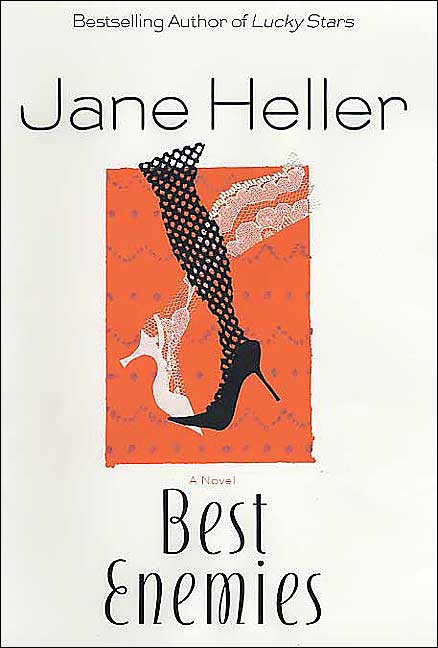 Amy Sherman is doing just fine - nice apartment in Manhattan, good job as publicity director at a publisher, decent social life - until she runs into Tara Messer, the beautiful blonde prom queen who was once her best friend. It's been four years since Tara stole Stuart Lasher, Amy's fiance - four years since Amy swore she'd stop playing second fiddle to spotlight-hog Tara. But when Tara, who is now blissfully married to Stuart, asks whether she's dating anyone, Amy can't bear to admit there's no man in her life. Instead, she claims she's getting married in six months, figuring the lie will never come back to haunt her. The next day, Amy learns that her publishing house has just acquired Tara's lifestyle book. Now, she not only has to promote her nemesis to the media, she also has to dig up a temporary Mr. Right to show off in front of Tara and Stuart. In desperation, she turns to bestselling mystery writer Tony Stiles, who has no idea what he's in for. And in the course of playing a game of payback, Amy finds herself vulnerable to yet another betrayal. As hilarious as it is romantic, Best Enemies is a cautionary tale about trying to keep up appearances, even with the person who knows you best.
What started off as
yet another great plot
for a book by Jane Heller, turned out to be some what of a disappointment for me. The book is broken up into three main sections, the first is from Amy Sherman's POV, the second from Tara Messer's and then finally, back to Amy's POV.
In the first section, we learn a great deal about Amy's character. We see that she's a talented publicity director who just happens to work for an impossible to please credit stealing boss at Lowry and Trammell; we learn that even though she's spent the last 4 years in therapy trying to deal with the betrayal from her best friend and ex-fiance, that she still has some deep issues to deal with; and we see that even though she has come a long way from playing second fiddle to her ex-best friend Tara, she still has those same insecurities and need to prove her self worth.
I felt for Amy's character, really, I did. When I read about how her best friend and fiance betrayed her, I wanted to hurt them as much as they had hurt Amy. They not only hurt, humiliated and betrayed her 2 weeks before her wedding day, but they didn't even have the guts to tell her. She had to find out by walking in on them doing the dirty, with her best friend sceamin' her lungs out.
So when Amy accidentally bumps into Tara 4 years later, not exactly looking her best (but of course, Tara is looking faaaaaaabulous) I didn't really fault Amy for spilling a little white lie here and there about how exactly she was going and who she was dating. I mean, how many of us wouldn't do the same thing, just to stick it to the girl who's mission was to steal the spotlight every chance she got and who just happened to steal your man in the process? Right? Right. But what Amy doesn't expect, is to see Tara again, ever. Unfortunately, no such luck for her. The very next day, Amy finds out that not only will she be seeing Tara on a regular basis, she'll have to promote the heck out of Tara's new book called Simply Beautiful (gag) and have to make her little white lie come true.
From here, Amy goes on a hunt to find the perfect candidate to fill the shoes of her future husband. But the last man she ever thought would fit the profile was Tony Stiles, another author L&T promotes and publishes. Tony and Amy have been aquaintances for some time, yet always seemed to rub each other in the wrong way..that is until Amy realises exactly how big of a fan both her ex best friend and ex fiance are of his work. She then works her magic to try to charm the socks off Tony and agree to her little ploy. The mysterious Tony was an okay hero, in my opinion. He had some sweet and awwww moments, but nothing to warrant a spot on my swoon-worthy heroes shelf. I did find his urge to help Amy out in her little predicament and protect her very noteworthy. I just didn't feel drawn to his character as I often find myself in other books.
As for the second section from Tara's POV..well, all I can say is that I nearly threw the book across the room six times. After having a horrible impression of Tara in the first part, I thought it was going to take a miracle by Jane Heller to convince me that Tara was a not so bad character. I didn't get that miracle. What I did get was an insight into Tara's character that I didn't like or empathise with at all. The section starts off with Tara admitting the wrong she committed but then she goes into an explanation of WHY she is the way she is and why things happened the way they did. I imagine that was meant to put cast her character into a better light, but all she did for me was make me want to gag.
For example, part of the reason she betrayed her best friend? Stuart convinced her (not so convincingly, by the way) that Amy had asked her to be the maid of honor out of obligation, not choice. And then he went on to say that "apparently" Amy didn't think very highly of her, (insert shallow, prissy, aloof, etc) and he disagreed. Well of course he's going to tell you that you twit, he wants to get into your pants! What surprised me was that (no matter how vulnerable Tara was saying she was at the time) she fell for the dumb ploy. She betrayed her lifelong best friend because of a few words she didnt even have the decency to confirm with Amy! She didn't even WANT Stuart, she just wanted to hurt Amy, the way she was hurting. Ugh. While I sympathise a little with the situation we find Tara in, in the present, a failing marriage which she pretends is Simply Beautiful, a part of me thinks, perhaps it served her right for her past misdeeds. But then again, who am I to judge?
The final section pretty much ties things up, sorting through the issues between Amy and Tara as well as giving Amy her HEA with Tony.
I can't say I'll ever re-read this one, nor will it ever earn a place on my keeper shelf. If you're looking for something to read to pass time, I'd maybe give it a go. But otherwise, I'd recommend you pass. I don't think I'll be picking up another book by Jane Heller any time soon.
3/5
Labels: Contemporary, Grace's Reviews, Jane Heller
---------------------------------------------