***I'm way behind on my reviews (I think I have somewhere near 15 to post) so I'm doing drive-byes. If you want more info, leave a comment and I'll respond. HUGS! Holly***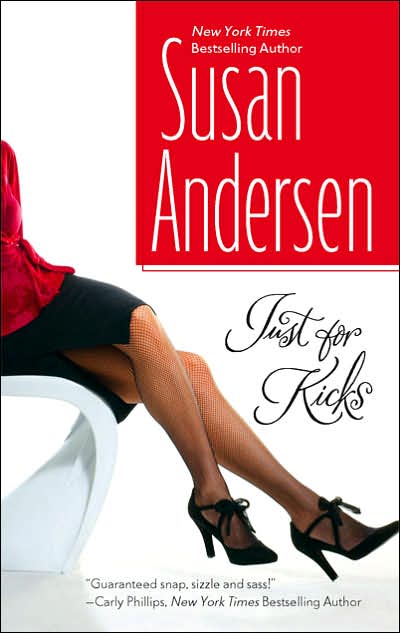 Las Vegas showgirl Carly Jacobsen keeps finding out the hard way that her idea of fun differs radically from that of her neighbor Wolfgang Jones. Sure, he looks incredible, and he seems to have a thing for her legs, but the man's a robot. So what's with their chemistry?
Wolf has noticed Carly's legs, because they're always tangled up in leashes attached to her ridiculous assortment of pets. She's a pain, she's wacky, she's always in the way and yet for some reason he can't keep her out of his thoughts.
When a moment of weakness leads to some serious sheet-scorching sex, the two discover at least one area where they do both have fun. But outside the bedroom the stakes are getting higher, and love might come down to a roll of the dice . .
I've been a Susan Anderson Fangirl for awhile now. Her books are pretty light and fluffy, but they're entertaining and they make me happy. Just For Kicks is no exception.
Carly Jacobsen has hit a dry spell in her love life, her newest dog won't calm down and her new neighbor, the sexy security guard from her work, Wolfgang Jones, rubs her the wrong way. Basically, things aren't going too well for our girl.
Wolf is just biding his time, gaining work experience before making a move to another state as a head security honcho and keeping a tight rein on his emotions. He doesn't want to be known as one of the Wild Jones'. But when his parents show up and tell him they're leaving his 16-year-old nephew with him while then move - yet again - to Germany, he has a hard time adjusting. Especially since his neighbors dog irritates him and he's fighting an attraction to her (the neighbor, not the dog).
Of course, they end up kissing in the hall, and then battling back the attraction, while the sneaky 16-year-old tries to hook them up.
This was a cute story. I love that with SA the focus of her stories are the couple, not the plot. There's a minor plot here with a stalker guy who's after Carly, but it takes a backseat to the story of Carly and Wolf, which is refreshing. Watching Wolf come undone and Carly settle down was nice. And I liked the nephew, too.
I'm giving this one a 4 out of 5. It's a light read, but good.
Skin Tight
Just for Kicks
Labels: Contemporary, Holly's Reviews, Susan Anderson
---------------------------------------------