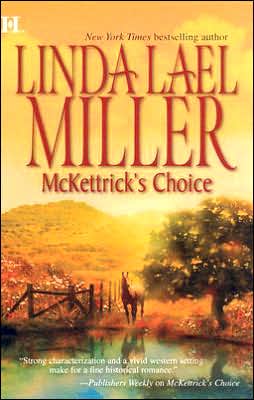 Hero:
Holt McKettrick
Heroine:
Lorelei Fellows
Category:
Western
Page Count:
448 pages
Grade:
C
When news came that there was trouble back in Texas . . . Holt McKettrick left a mail-order bride and his family on the spot!
And he never looked back. He just prayed he'd be in time to save the man who had raised him as a son and keep his best friend from the gallows. He knew he'd encounter rustlers, scoundrels and thieves. But he'd never expected to find a woman like Lorelei Fellows.

Setting fire to her wedding dress in the town square probably wasn't the best way to stand her ground.
But Lorelei had had enough. She was sick of men and their schemes. All she wanted was to stake her claim on her own little piece of Texas. And with Holt McKettrick as a neighbor, things were beginning to look up. The man was a straight shooter with a strong will, a steady aim and a hungry heart.
Okay, this book started out really good and I was really enjoying it, I mean the Hero walks out on his wedding because he gets called to Texas to help his foster father from back in the day, and then he finally gets to Texas (from Arizona) to find a woman, who happens to be the heroine, burning her wedding dress, which means her wedding didn't happen either, what's not to like right? I was laughing when Lorelei was burning her dress because it had to have taken balls to do that because of the reasons she was doing it and really, I WAS enjoying the book until I got to about the 300 page mark. Then I started getting irritated. Lorelei Fellows is one of those feisty, proud heroines, the ones who is too stubborn for their own good, the one that grates on my very last nerve because they can't just back down for nothing and noone.
Ugh.
After the third time she told Holt, "I honestly, despise you." I wanted to throw the book at the wall. The storyline is a good one, but man the heroine serious irks my damn nerves, and I must be one horn ball woman because it's 300+ pages into the book and there's STILL NO SEX. Hello???? Where's it at? Bring it on, already..sheesh. The sexual sparks are flying off the pages and it's so fierce between these two that my book is about go up in flames BUT there's still no sex. Come on, LAND THE DEAL already, yeesh!
Holt, though he's a good hero, he's also getting on my hot damn nerves. He keeps picking these fights with Lorelei that is driving me up the freaking wall. With every fight that they get into, I get more and more exasperated with the both of them. It may be funny to Melina who is one of the characters in the book, but to me it's just outright annoying! Get over yourselves, THE BOTH OF YOU! And get on with the getting it on. GOSH!
Okay it is taking me TOO long to finish this book, which is probably telling you guys how long I've been working on this review.
I liked the book but would I recommend this book? I wouldn't recommend to read this book first. There were a lot of things I liked about the book, Holt for the most part was a great and fantastic hero, you could tell that really loved his daughter, Lizzie and I thought that was very endearing, however his whole picking fights with Lorelei annoyed the snot out of me, I liked Melina, I loved how she was the calm and cool voice of reason where Lorelei was concerned, Lorelei drove me right up the damn wall, it's a wonder why I even like the book, but hey, I do...go figure.
I loved Holt's brother, Rafe and can't wait to read his book, though I'll have to think about it because Holt thought about each of his brother's relationships with their wives, before the women were actually their wives and it's all a lot more of the same storylines that Holt had, with them fighting all the damn time, I don't think I can go through this again in another book, at least not now.
Other things I loved about the book, the loyalty and trust these guys had for each other. Holt, Frank and Gabe, I loved their complete and earnest belief in each other and well, it was just great to read about them.
Overall, this book was just average for me, I thought I was really going to enjoy this from the beginning of the book, but it didn't really pan out that way for me, it dragged in some places and drove me insane (I may have mentioned that fact before, *shrug*) in other places, but I did end up liking Holt and Lorelei at the end, so it wasn't bomb diggity but it was good.
And I'm done.
Labels: Contemporary, Grade C, Linda Lael Miller, Rowena's Reviews
---------------------------------------------